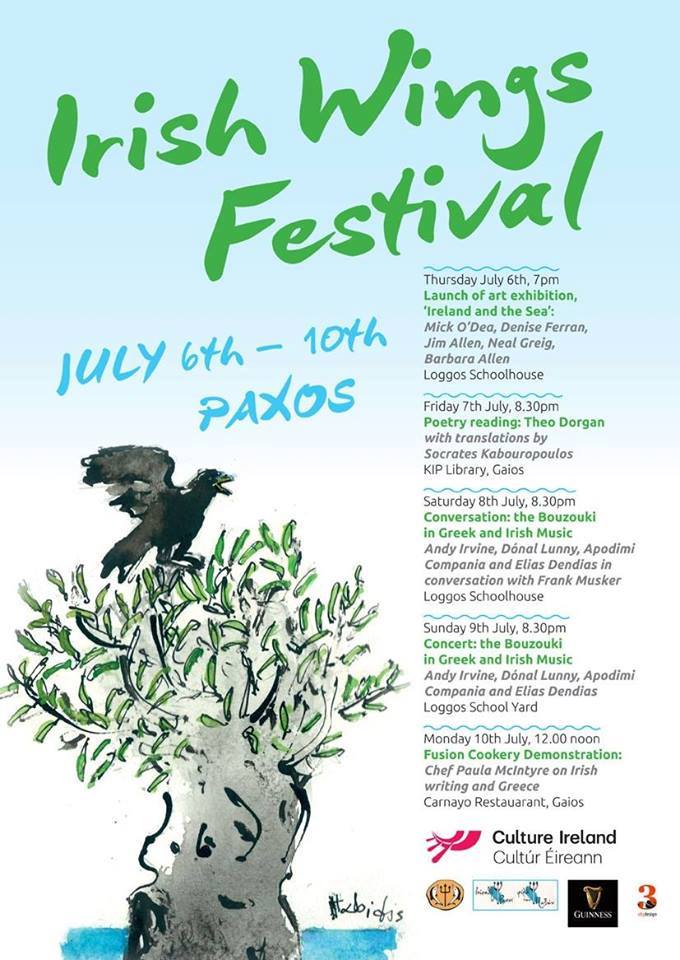 The bouzouki in Greek and Irish Music – Irish Wings Festival

| | |
| --- | --- |
| | 09/07/2017 |
| | 8:30 pm |
| | Loggos, Paxoi |
| | Old Loggos Schoolhouse |
| | Google Map |
Bouzouki Concert with
Andy Irvine, Donal Lunny
Greek Musicians of Apodimi Compania
and Paxiot bouzouki player Elias Dendias
Old Loggos Schoolhouse – Sunday 9th July, 8.30 pm
website: paxosfestival.com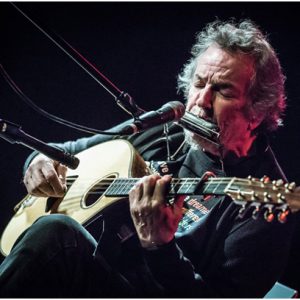 Andy Irvine  is an Irish folk musician, singer-songwriter, and a founding member of the popular bands Sweeney's Men, Planxty, Patrick Street, Mozaik, LAPD and Usher's Island. He plays the mandolin, mandola, bouzouki, harmonica and hurdy-gurdy.  Irvine has been influential in folk music for over five decades. He has recorded a large repertoire of songs and tunes he assembled from books, old recordings and folk-song collections rooted in the Irish, English, Scottish, Eastern European, Australian and American folk traditions. He sets these songs to new music and writes about his personal experiences or the lives and struggles of his heroes:Tom Barker, Michael Davitt, Mother Jones, Douglas Mawson, Raoul Wallenberg, and Emiliano Zapata, among others.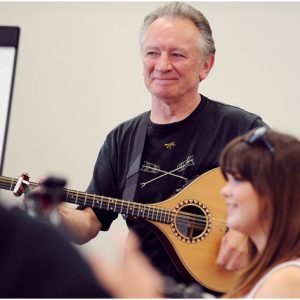 Dónal Lunny is an Irish folk musician and producer. He plays left-handed guitar and bouzouki, as well as keyboards and bodhrán. As a founding member of popular bands Planxty, The Bothy Band, Moving Hearts, Coolfin, Mozaik, LAPD and Usher's Island, he has been at the forefront of the renaissance of Irish traditional music for over five decades. In 1970, Lunny formed a musical partnership with Andy Irvine, who had returned from his travels in Eastern Europe after an initial gig at a party for the Irish-Soviet Union Friendship conference. They also created their own Club Night, downstairs at Slattery's Pub in Capel Street, Dublin, which they called 'The Mug's Gig'. This featured Irvine and Lunny, and guest performers such as Ronnie Drew, Mellow Candle and the group Supply, Demand & Curve.
Apodimi Compania (Band of Friends) was formed by a group of students of Greek heritage studying under Greek scholar and musicologist Stathis Gauntlet at Melbourne University in Melbourne, Australia in the early 1980s. The band – brothers George Galiatsos and Manuel Galiatsos, Nick Vergopoulos, Jim Dimitriou and Tom Dimitriou – immersed themselves in old recordings of Rebetika music. They started to perform around the inner-northern suburbs of Melbourne, which are home to many people of Greek descent. The  band members moved to Athens in the mid-1990s, where they were increasingly recognised as a leading force in Greek "roots music", world-wide. Ireland's Andy Irvine has been one of their enthusiastic guests and collaborated with them on new tunes.