Biography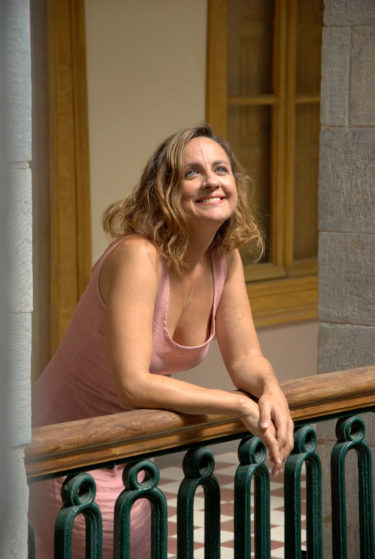 "…I want to sit here beside her, I want to listen to her sing. There are some voices, for reasons we don't understand, that leave a lasting impression in our minds and souls. For example, singers like Kazantzidis, Moscholiou, Alexiou, Parios. These voices are very rare. This woman has one of these four or five voices that move me in this very special way…"
George Dalaras
"…her good humour and brilliant singing lifted us all, as we sought inspiration in the recording studio…" 
Andy Irvine
Chrysoula Kechagioglou is the band leader of "Chrysoula K. and Púrpura". 
She also performs with various musical groups, principally "Iernis – Traditional Celtic Music Band" and "Apodimi Compania – Traditional and Rebetika Music Band".  She is one of the founders of the Athens Celtic Festival (2014, 2016, 2017, 2018, 2019) aiming to bring together all the Celtic music groups of Greece and their audience.
A renowned artist in her country, Chrysoula has performed or recorded with many prominent Greek artists, including Nikos Antypas, Lina Nikolakopoulou, Nikos Xydakis, Haig Yazdjian, Manolis Mitsias, Nikos Tatassopoulos, Nikos Kypourgos, Dimitris Mystakidis.
She has toured extensively across the USA, Africa, Australia and Europe. She has performed with numerous European and U.S. artists including legendary Planxty members Andy Irvine and Donal Lunny, the American multi- instrumentalist Bruce Molsky and the multi-award winning traditional musicians Muireann Nic Amhlaoibh, John McSherry and Donal O'Connor.
Chrysoula K. participated in the 2019 released CD titled "The Long and the Short of it" by band Mozaic: (Andy Irvine, Donal Lunny, Bruce Molsky, Nicola Parov, Renz Van Der Zalm). The next year, she participated in Andy Irvine's CD "Old Dog, Long Road vol. II".
In June 2022, when numerous iconic Irish folk musicians got together to celebrate Andy Irvine's 80th birthday in the famous club "Vicar Street" in Dublin, Chrysoula K. was the guest of honour.
In July 2022, she performed at Pulitzer prize winner Paul Muldoon's "Muldoon's Picnic" where she sang with Horslips.
https://www.paulmuldoonpoetry.com/muldoons-picnic
Recordings:
Kato ap' tin Acropoli – Nikos Antypas, Lina Nikolakopoulou ( 2002 )
Ek thavmatos – Constandinos Plousios ( 2012 )
Beyond A Far Off Shore – "Iernis traditional Celtic music band" ( 2012 )
Stagones – Lazaros Samaras ( 2012 )
Sa Fylachto – Lazaros Samaras ( 2014 )
Agapi – Thodoris Kouelis, Athena Spanou ( 2016 )
Chrysoula K. & Púrpura – Chrysoula K. & Púrpura ( 2018 )
The Long and the Short of It – Mozaic ( 2019 )
Old Dog, Long Road – Andy Irvine ( 2020 )
Hameni Poli ( Lost city ) – Chrysoula K. & Púrpura ( 2022 )
Cinema:
Documentary "The light thickens".

Director: Lydia Konsta
Nine artists from different backgrounds (ceramics, music, photography, poetry, sculpture…) came together to research and find an artistic response to the collective trauma caused by the tragic events which took place during World War II, in Germany and Greece. Chrysoula and composer Dimitris Karageorgos presented a musical performance inspired by the atrocities the Ioannina Jewish community suffered as much from the German occupation forces but also at the hands of their fellow Greeks, when the few concentration camp survivors returned home.
Documentary "The Laughing Boy": A trilingual feature documentary – An Buachaill Geal Gaireach : the remarkable and untold story of a song.
Director: Alan Gilsenan.
Chrysoula Kechagioglou is interviewed about her experiences connected to the "Laughing boy" and sings Greek and Celtic songs along with the "Iernis" musician members George and Manolis Galiatsos.
https://queensfilmtheatre.com/Whats-On/The-Laughing-Boy
Ulysses: A European Odyssey: Sept. 19, 2022 – June 16, 2024
This multi- disciplinary project will take nearly 2 years to complete. It will unite,  in a single artistic vision, 18 European cities. Ulysses: A European Odyssey is inspired by James Joyce's masterpiece, and its status as one of the landmarks in European culture. 
In September 2022, the project commenced with Chrysoula K. and Irish vocalist Liam Ó Maonlaí, bringing together Homer's Greece and Joyce's Dublin, as they were filmed, in Athens, performing 2 songs: one Greek and one Irish.
Education 
Chrysoula Kechagioglou was born in Toronto, Canada in 1978. She came to Greece when she was one, because her parents were bored of snow. She studied Philosophy at the Deree American College (1995- 2000) and Speech Therapy at the Ioannina Speech Therapy University (2005-2010). Further on she specialized in voice- treatment through vocalization.