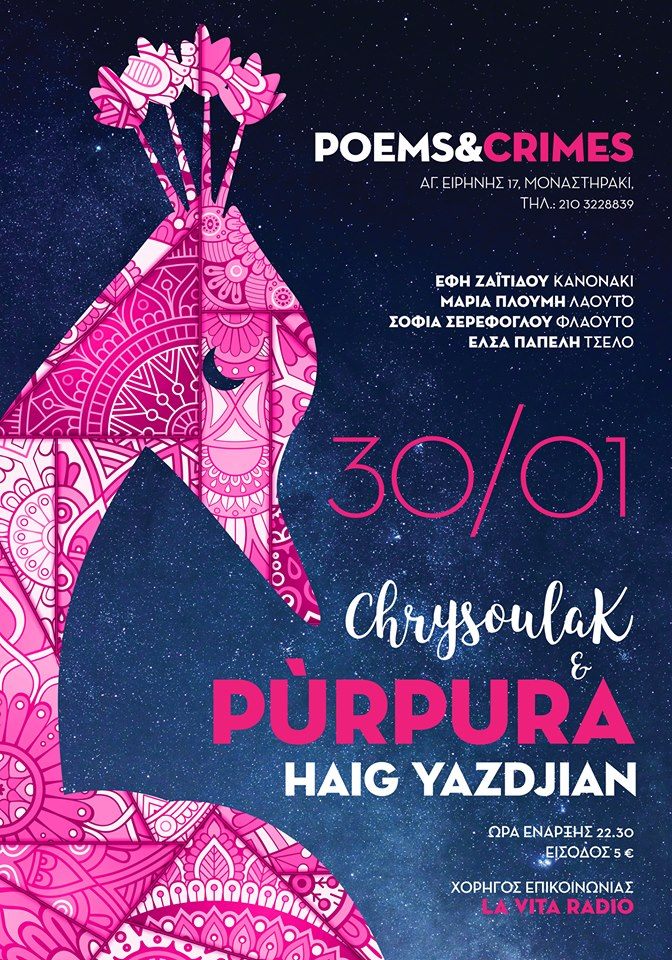 Chrysoula K. & Púrpura Guest: Haig Yazdjian

| | |
| --- | --- |
| | 30/01/2017 |
| | 10:30 pm |
| | Athens |
| | Poems & Crimes |
| | Google Map |
«Púrpura»: The latin word for "purple". The symbol of spirituallity, mistery and harmony. The perfect color for a clearly "female" band. 5 women with different musical tastes and background, in co- operation with the exceptional Armenian musician Hiag Yazdjian, aiming to create an original musical reality, which will sound both joyful and nostalgic.
The slightly paradoxical mix of instruments- canun and lute from the eastern Mediterranean tradition, flute and cello from the symphonic orchstras of the West- and the combination of all these with the oud and the jazz influences of Haig, form an ideal environment for the melodies of Argentina, Ireland and the East to flourish and create a mozaik- a musical dialogue between the East and the West.
Members of «Púrpura»:
Effie Zaitidou: canun
Maria Ploymi: lute
Sofia Serefoglou: flute
Elsa Papeli: cello
Chrysoula Kechagioglou is singing.