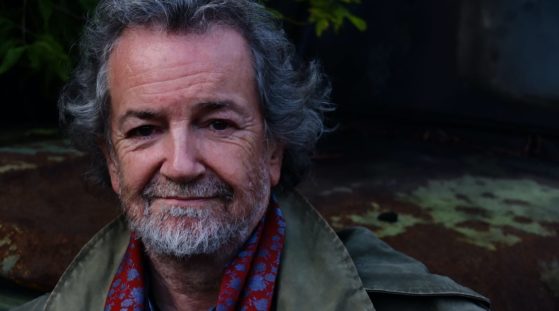 MOZAIK: THE LONG AND THE SHORT OF IT
Multi-cultural folk supergroup Mozaik is the band that inveterate musical traveller Andy Irvine had always dreamed of forming. His dream came to be realised in Australia in 2002 when he got together with four fellow-musicians who represented his biggest musical influences – all supremely versatile practitioners who could bring their own takes and ideas to the table. These being American old-time supremo Bruce Molsky, Ireland's "percussive powerhouse" Dónal Lunny, Bulgarian/Hungarian multi-instrumentalist Nikola Parov and Dutch master-of-all Rens van der Zalm. Between them, they play an impressive number of different instruments (over 20) and boast two charismatic singers (Andy and Bruce), so any Mozaik outing will embrace an astounding variety of timbres, styles and approaches and any audience will thus be kept both constantly engaged and royally entertained.
And that's unquestionably "The Long And The Short Of It", as the group's albums – and in particular this third recorded offering – amply illustrate. Let's leave aside the question of why a collection recorded over four years ago (during the month of September 2015, in Nikola's house outside Budapest) should have taken this long to come to fruition – and celebrate its appearance now, for here it is at last and (to put it mildly!) proves well worth the wait. It contains material and performances that are quintessential Mozaik, the kind that keeps audiences flocking back to their gigs time after time and leaving the venues totally energised and invigorated and ready to face the grim world outside. To describe the musicianship as top-flight is both a given and a massive understatement, and there are many examples of the neck-prickling seamless interactive and combination skills on display throughout the album. The twin fiddles on track 2's medley (The Black Hills Waltz & The Red Steer); the chilling unison whistles introducing the whalermen's song The Coast Of Peru; and Nikola's sinuous violin work on the first of the three tracks to feature special guest Chrysoula Kechagioglou. But this is mere cherrypicking, and if I were asked to cite just three favourite tracks I'd be hard put to do so. The gorgeous Rainbow 'Mid The Willows, which takes a song from the singing of Almeda Riddle and a tune by Chris Algar, would have to be a candidate, as would the aforementioned track 2 pairing; the third is mentioned in dispatches below… But not far behind is Old Virginia, led by Bruce and drawn from the singing of Dan Tate from near Fancy Gap, Virginia, while it's impossible to resist Andy's puckish anecdote As Good As It Gets, indelibly paired with a referential quick-march by Dónal. Or for that matter the pattergun delivery of Andy's portrait of Harry Houdini, from whose charms it proves aptly hard to escape…
However, notwithstanding the plethora of vocal and instrumental talent available within the quintet itself, no Mozaik venture would be complete without at least one special guest, and The Long And The Short Of It is no exception, for the album's billing proudly headlines "with Chrysoula Kechagioglou". Chrysoula is a renowned Greek traditional singer with a particularly beautiful voice, and all three of her contributions are disc highlights. They range over a wide emotional range, from Like A Soft Breeze, a haunting setting of a poem by Napoleon Lapathiotis (who shot himself in 1944), a translation of The Song Of The Nightingale (a traditional song from Thrace) and, to conclude the album, a stunning a cappella account of the "dance song" Neratzoula which was Chrysoula's grandmother's "party hit". Mozaik's other guest artist on this album is singer Ágnes Herczku, who vocalises (hums) a beautiful melody to introduce Nikola's inventive transformation of Gyimes, a Moldavian kettös (an animated couple dance).
The above guest contributions aside, there's inevitably an abundance of brilliant playing and scintillating, ever-shapeshifting arrangements throughout the disc, with interesting and imaginative scoring to hand whatever the mood. And the apparent sheer effortlessness of the musicians' virtuosity is never to be underestimated. There are as many magnificently lyrical passages as there are instances of intelligent note-spinning, indeed, and although no individual track exceeds 5½ minutes in length there's invariably a feel of relaxed accomplishment pervading the music-making even when a fast tempo is called for. Only on the last of the disc's purely instrumental tracks did I feel a tad disappointment due its shortness, it couples a chirpy original reel of Dónal's with an ultra-infectious Romanian dance, but it's all over in but a flash and the entire medley is done and dusted in just under three minutes with barely time to draw breath! Bravo and encore!
So summing up, the long and the short of this review is a hearty, unqualified recommendation for this impeccably packaged disc – a seriously uplifting set from Andy and his chums.
Order The Long and Short Of It here: https://www.andyirvine.com/albums/The-Long-And-The-Short-Of-It.html
You can hear a track on our latest Folk Show here: https://www.folkradio.co.uk/2019/11/folk-show-episode-66/
Photo Credit: Béla-Kása
source: folkradio.co.uk